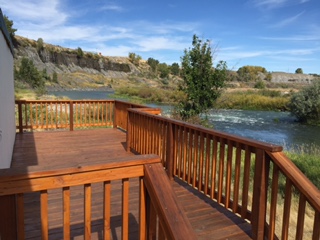 Your home is the foundation of your life. It's your space. Your sanctuary. Your security. It's where you love your family, hatch your dreams, display your cherished keepsakes. You should love your home.

At Rivers Bend, your home is nestled on five wooded acres along the Shoshone River. Peaceful, quiet, away from the things of man, yet still conveniently located in Cody city limits. With our freshly-updated mobile homes and log cabins, you have your own space. No sharing walls, floors or ceilings like apartments. You're a minute away from peaceful trails that meander through woods and meadows. Deer graze right in our park, while bald eagles fly overhead. Blue-ribbon-5 fishing surrounds our community – the highest rating outside Yellowstone National Park.

No worries about having bad neighbors here. We adhere to a no-drug, no-crime, no-drama policy. We employ an attentive, onsite manager to keep it that way. Our groundskeeper keeps the common areas attractive and the roads maintained.

We've owned this community 16 years. We've invested over $800,000 to improve the dwellings and infrastructure. We treat our residents right. Perhaps you've experienced the pain of having a landlord who didn't. It makes a big difference when life throws you an unexpected challenge. We work with residents during these challenges as long as they provide a reasonable, specific plan and do what they promise. Many landlords aren't so flexible.

If you rent a mobile home from us and fall in love with it, there may be a chance to purchase it using our own, affordable financing (not all dwellings are available for this option).

If you're a responsible pet owner, we accept well-behaved dogs and cats with an additional deposit.

If this environment matches what you'd like to experience and you think you'd be a good neighbor to our other residents, please view our vacancies and contact our manager for a showing. We complete our application verifications and make a decision within 24-48 hours.

At Rivers Bend, you don't just gain a home, you gain a peaceful riverfront community.