Yellowstone National Park Photo Essay
Visit 5/8 and 5/9/06
By Mike Johnson
Photos by Margie Johnson

UPDATE: THE ROAD CONSTRUCTION DEPICTED BELOW IS NOW COMPLETED. YOU HAVE BRAND NEW WIDE ROADS FROM CODY RIGHT THROUGH THE EAST GATE TO THE CENTER OF YELLOWSTONE!

We packed up the Winnebago and took a Monday-Tuesday trip into Yellowstone. We're only an hour from the East Gate which makes us some of the most fortunate people on earth. It was May 8th but there was still plenty of snow in the park. In fact Yellowstone Lake (Largest lake in the world above 7,000 feet altitude) was still 90% frozen. It snowed several times during our trip but nothing that stopped traffic. It DID stop us from having a campfire, however. But don't worry, the snow will be gone by June and summer conditions will prevail.

Yellowstone is on top of three collapsed calderas (volcanoes) and has more active thermal features than anywhere else in the world. These thermal features are mud pots, hot springs and geysers. The most famous geyser is Old Faithful, which due to its popularity, is located in what has become the most commercially developed area in the park. I find great comfort in its consistency. My Dad took me to Old Faithful when I was 10 years old and nearly 40 years later I can still go see it erupt myself. You'll see photos below.

So anyway, we toured Yellowstone's Lower Loop (Our favorite of the two loops) on May 8 and 9th, 2006 and hope you enjoy the photos. We're happy to answer any questions you may have if you send us an email. Enjoy!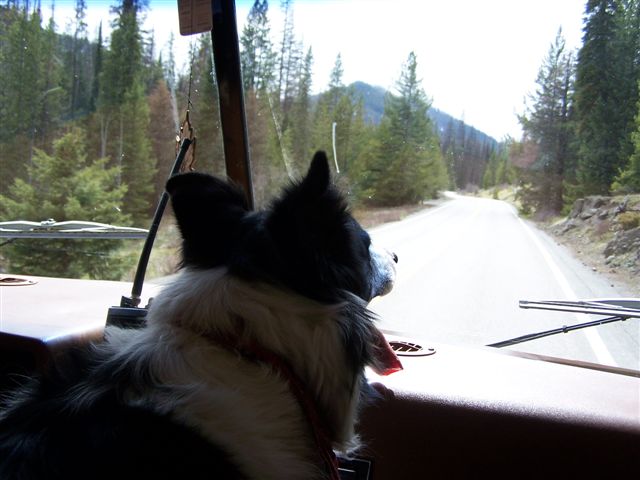 Off we go, Millie helps navigate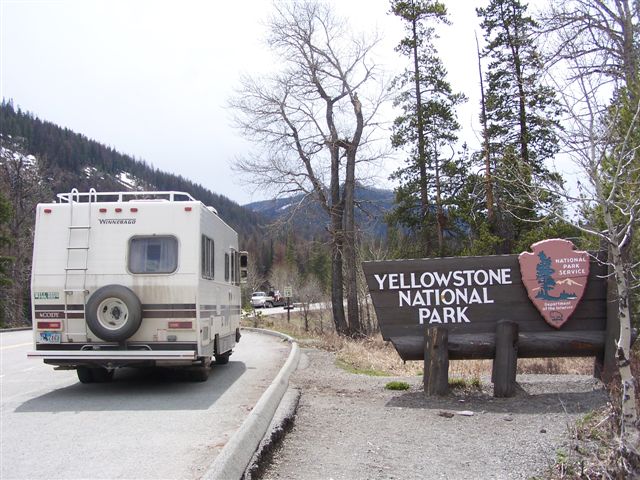 The Winnebago arrives at the East Entrance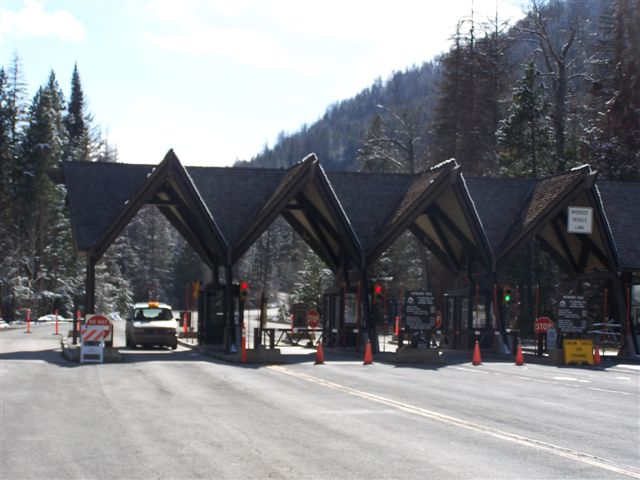 The East Entrance to Yellowstone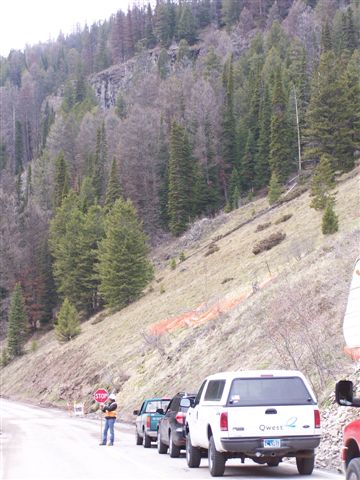 An area west of the East Entrance is under construction during 2006 & 2007. The construction area is only 5 miles long but reduces the East Gate hours to 8 am to 8 pm so they can do blasting at night. A pilot car leads you through the area and there can be delays up to 30 minutes, however, most delays are less than that. Because the East Entrance is the prettiest of the park's five entrances, you should not change your route for this small amount of construction activity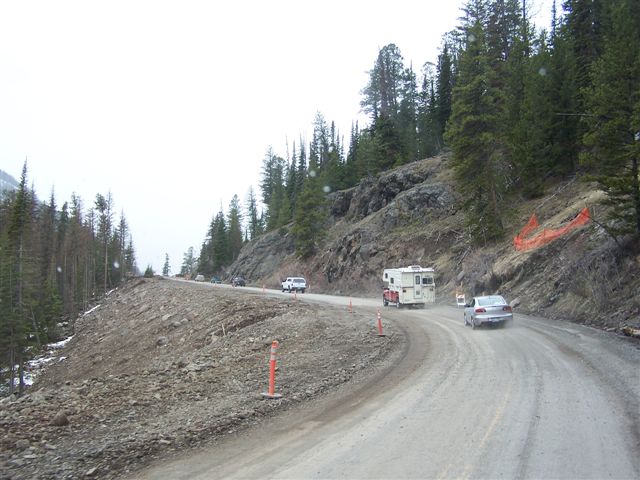 If you have to be delayed, you're waiting in one of the prettiest places imaginable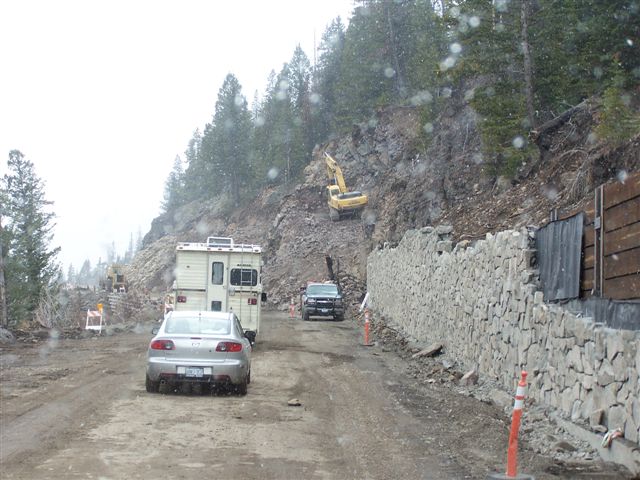 New wall establishes the inside road border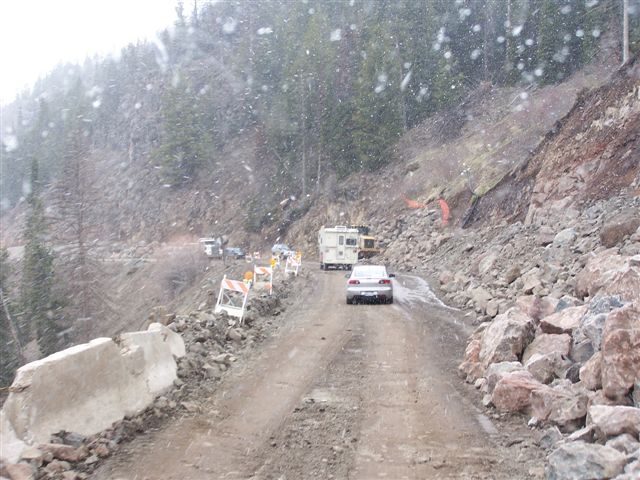 The worst spot of the construction area isn't so bad. They are actually carving away the mountain to widen the roadbed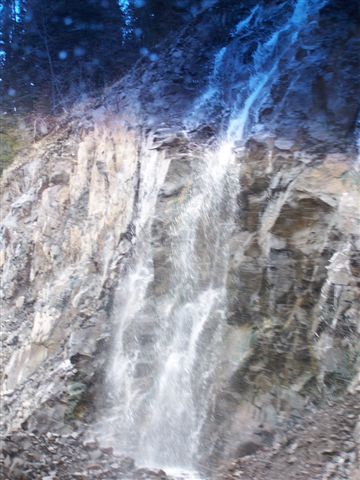 Little bonus surprises are around every corner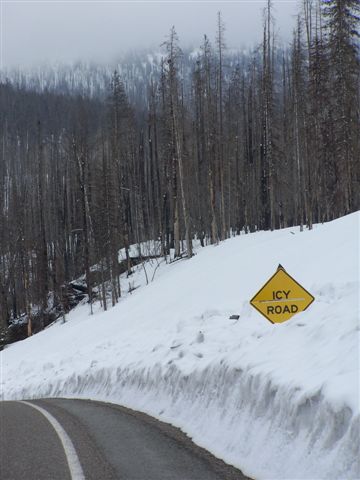 It wasn't, but there sure were large snowbanks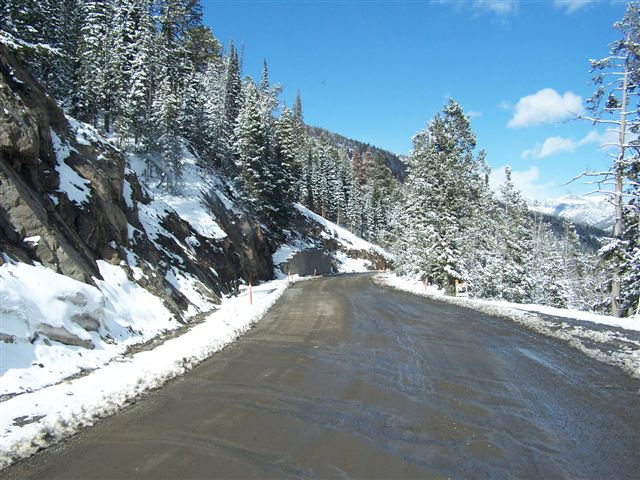 Great views from the road but the park is so large you only see 1% of it from the roadways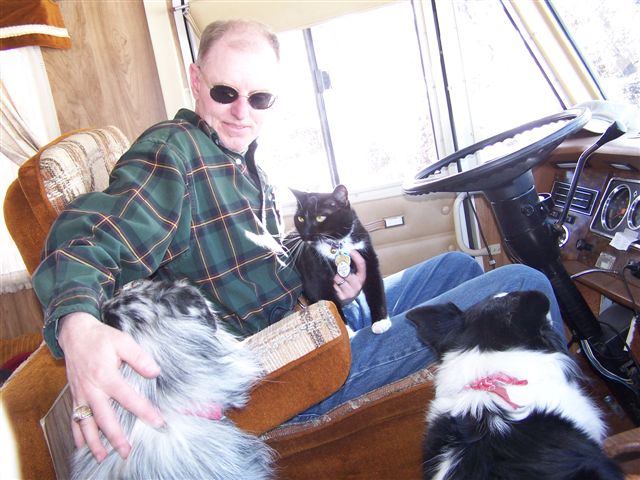 We traveled with two dogs and a cat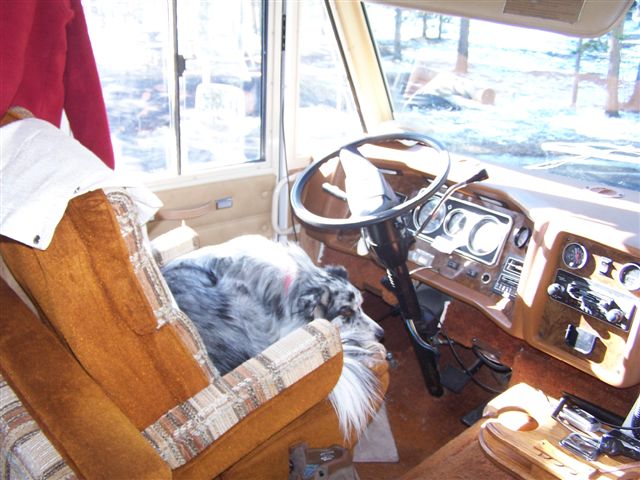 Angel keeping my seat warm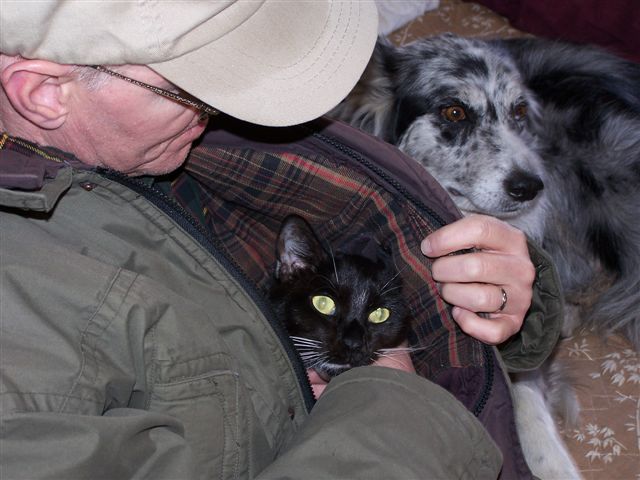 "Persistence" the cat gets along with the dogs and travels well so she gets to come along too

Typical event in Yellowstone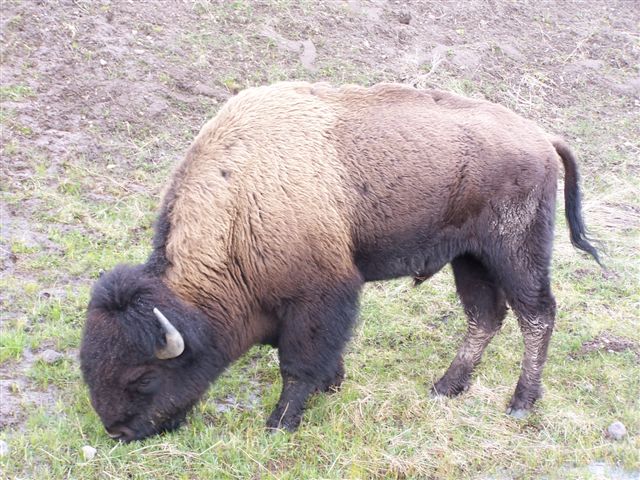 Bison

Bison close-up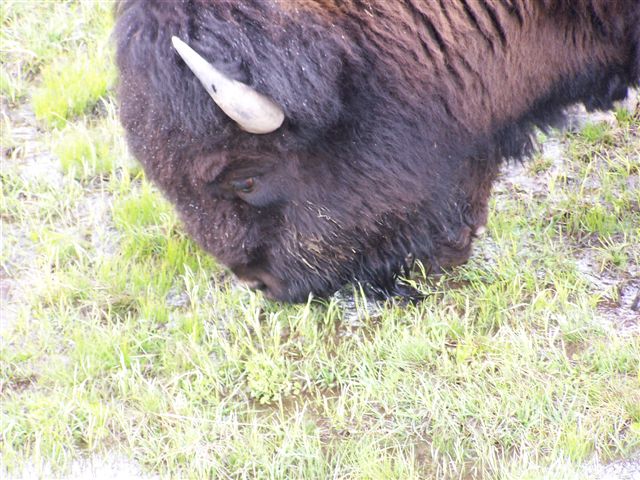 Bison Close-up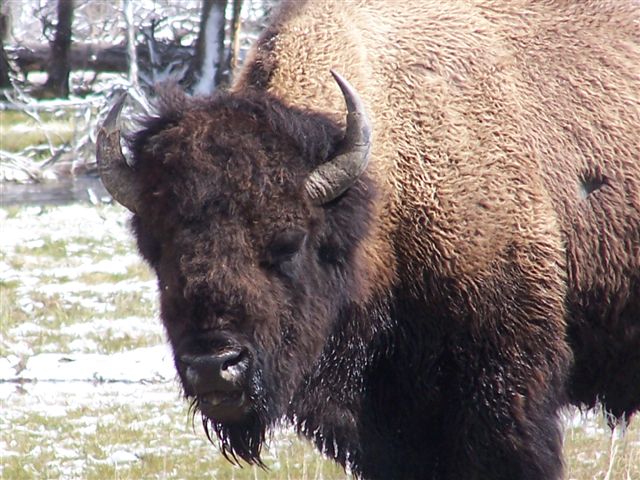 Bison close-up

Yellowstone Lake thaws from the edges outward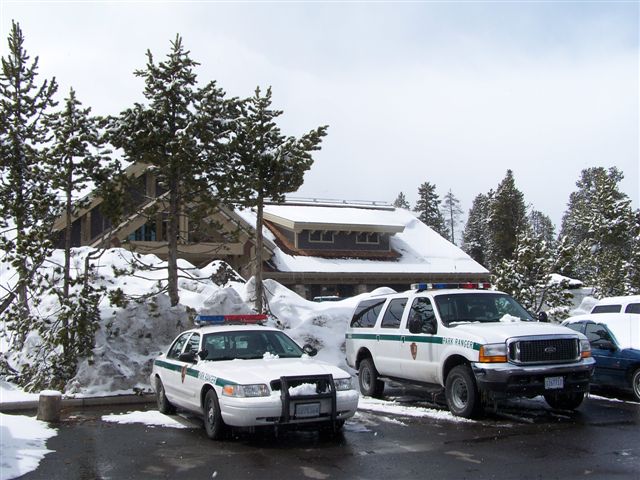 Still deep snow at Canyon Village in May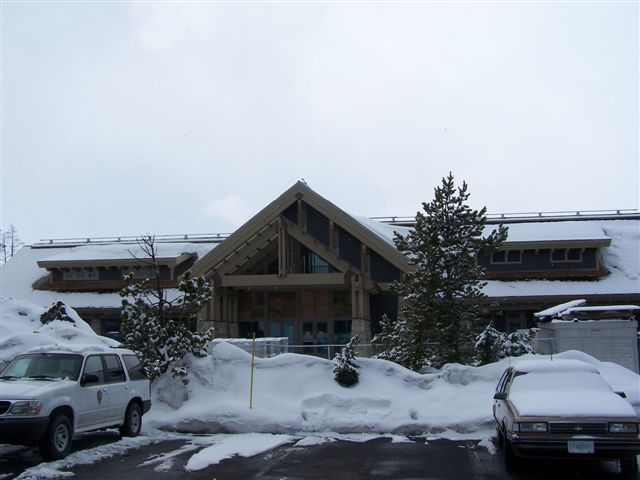 The new Canyon Visitor Center opens this summer

Registering at Madison Campground

Friendly people, minimal paperwork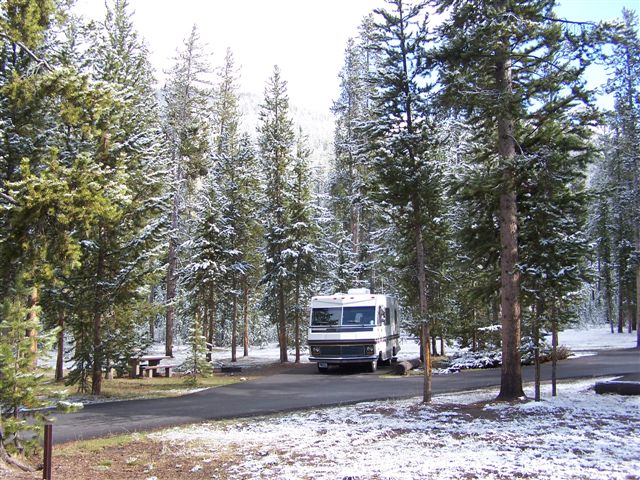 Our campsite in the Madison Campground (no hook-ups)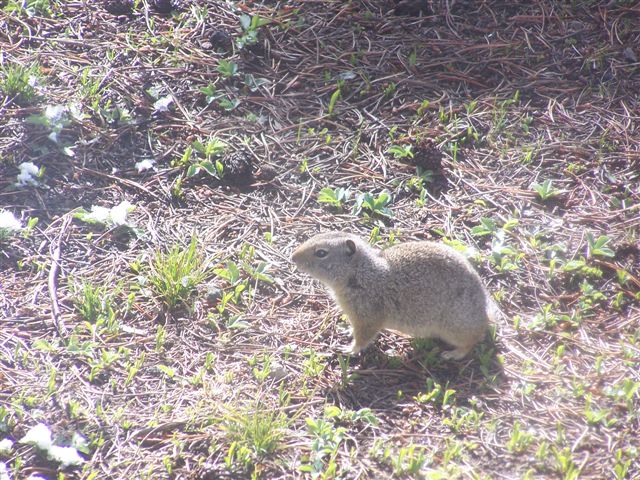 Ground squirrel at our campsite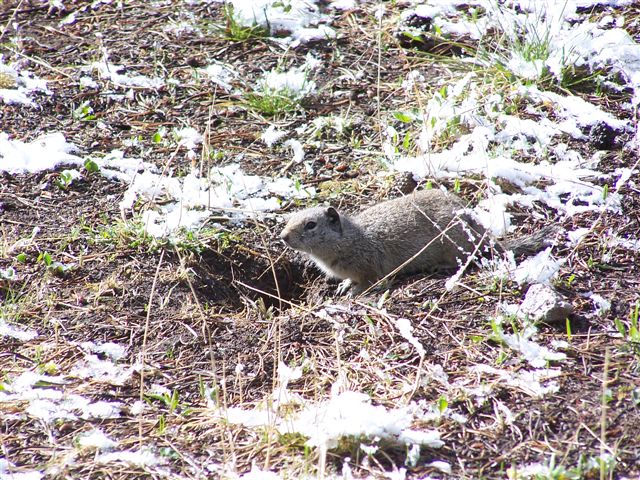 Another ground squirrel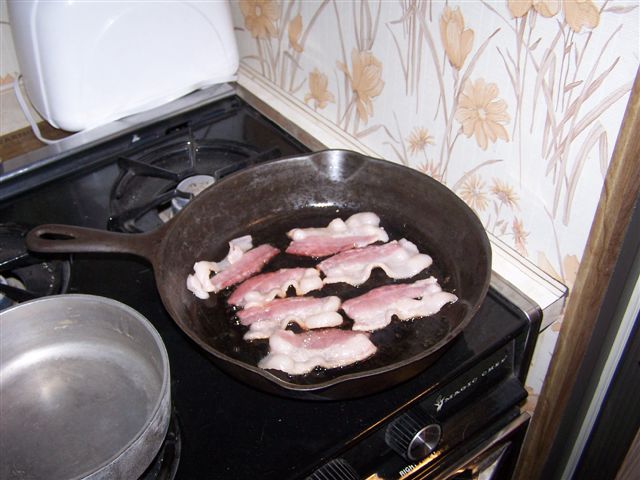 You can't camp without the smell of bacon in the morning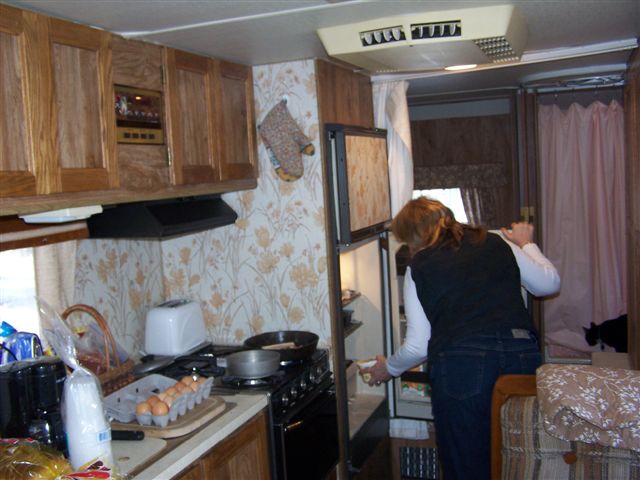 Margie working her magic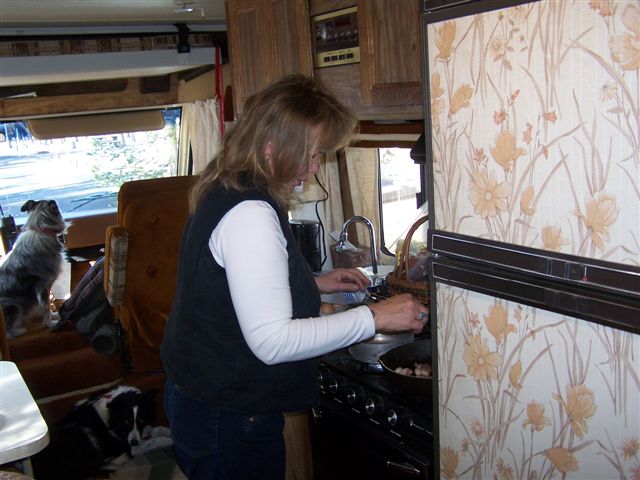 Kitchen on wheels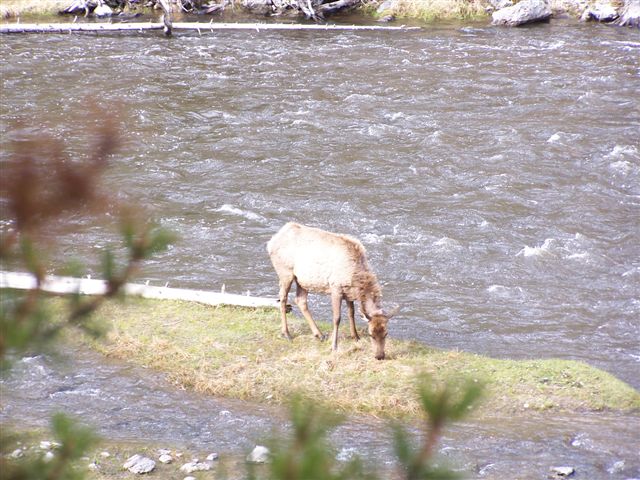 Elk wade to the best grass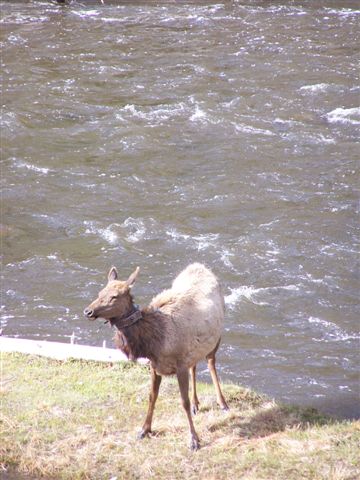 This elk has been collared for study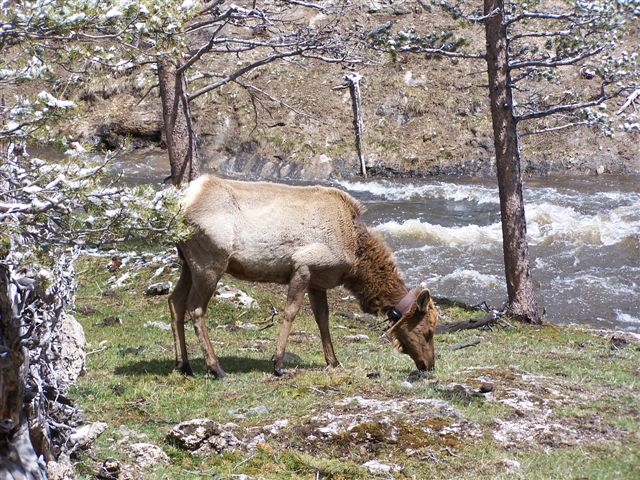 Elk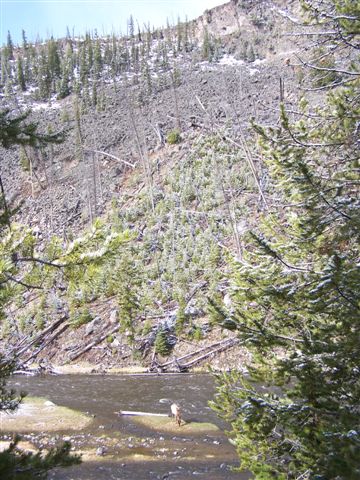 Elk's neighborhood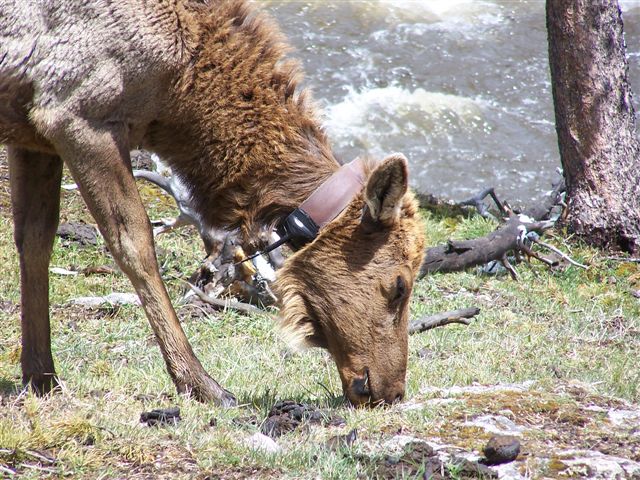 Elk close-up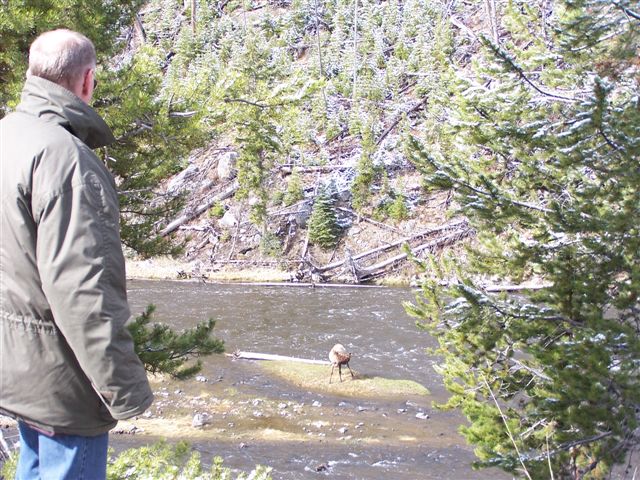 Yellowstone offers an up-close experience with animals

The Firehole Canyon drive is spectacular. It's our second favorite spot in the park behind the Lower Falls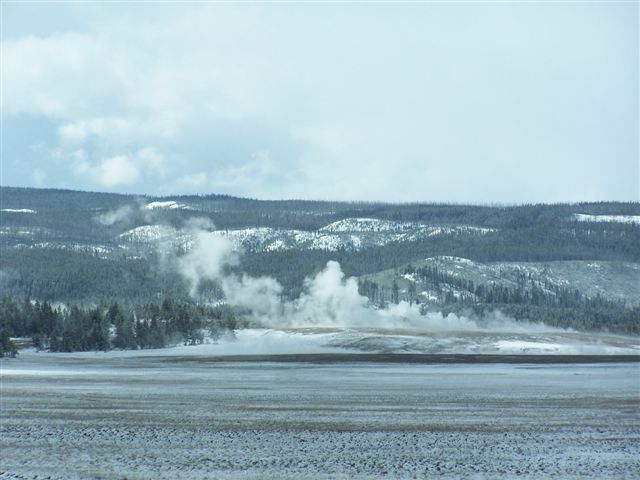 Biscuit Basin thermal area

Biscuit Basin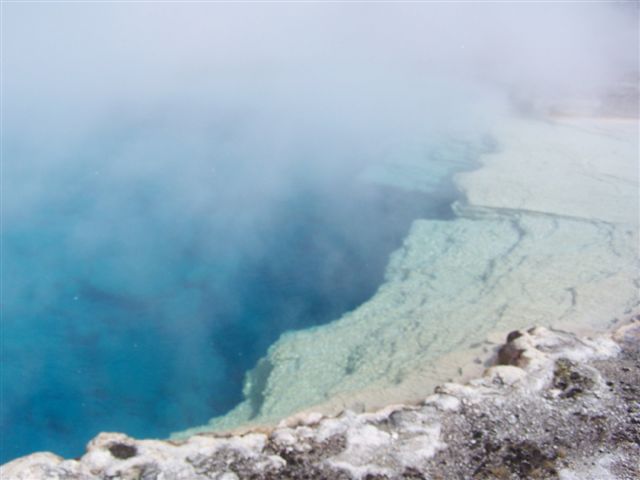 Deep blue hot springs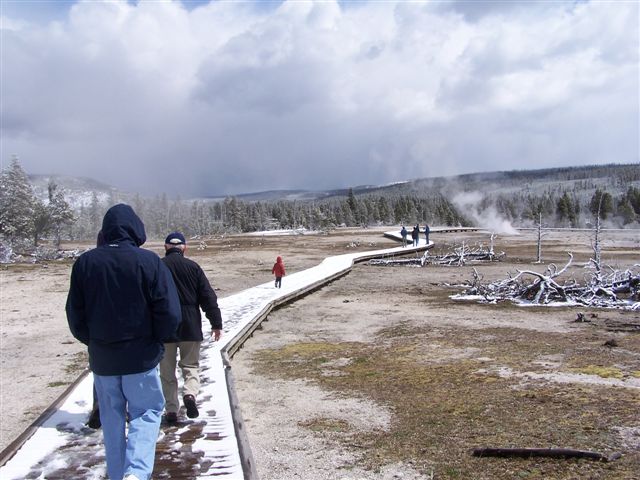 Stay on the boardwalk to prevent falling through the hot crust. We always laugh though -- what's holding up the boardwalk?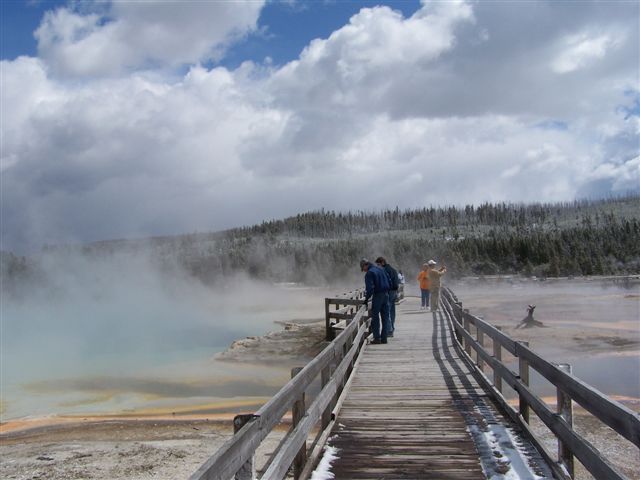 Fellow sightseers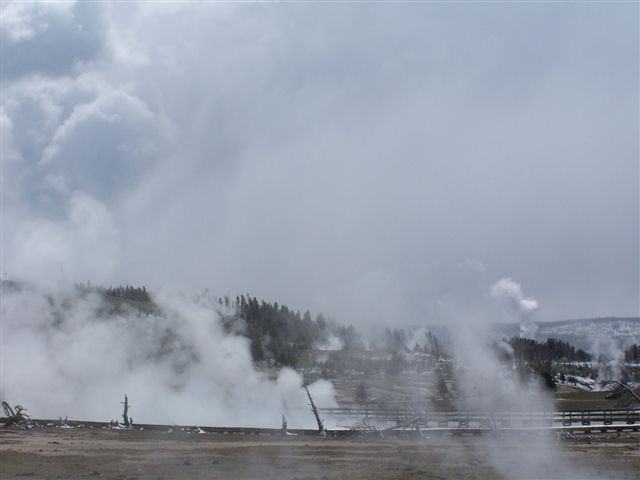 We're walking over an active volcano

Colorful minerals and bacteria line some of the hot springs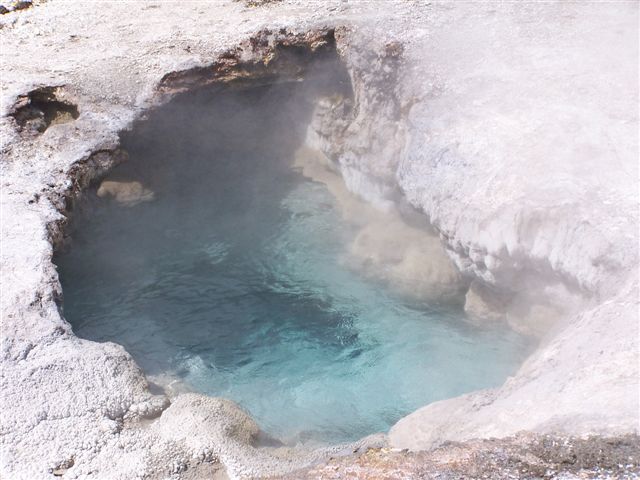 More clear hot springs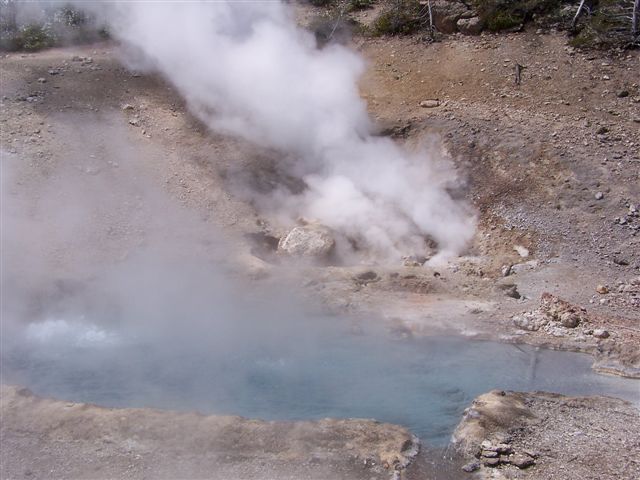 Hot springs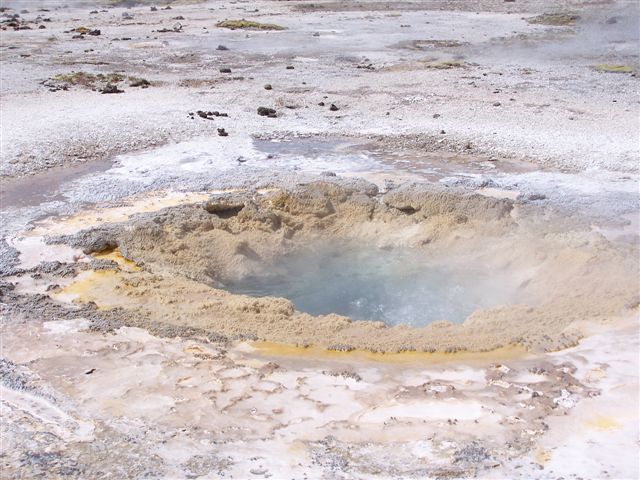 Hot springs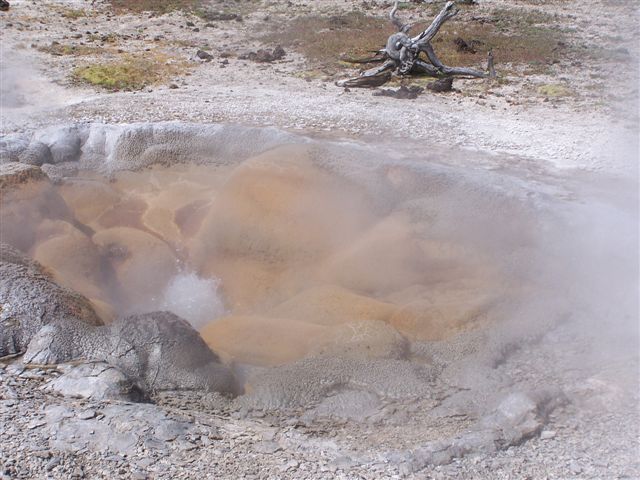 Hot Springs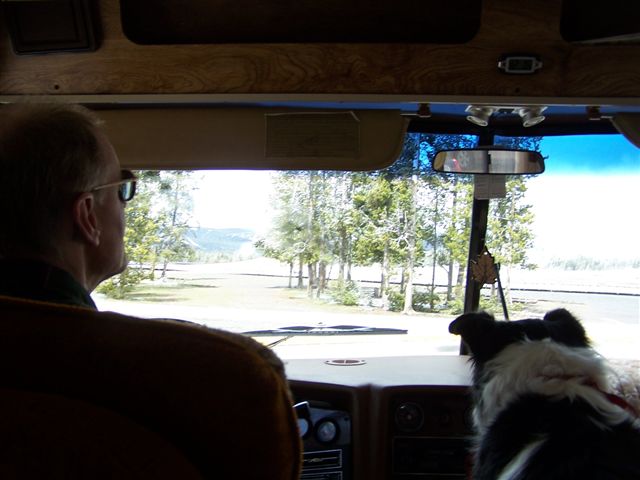 Dog is my co-pilot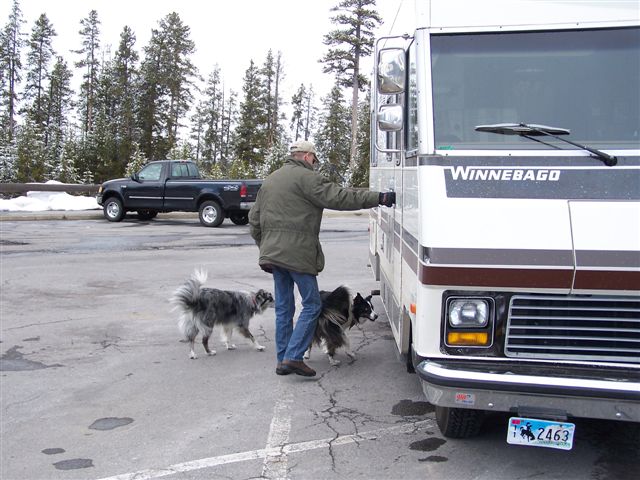 We had most of the park to ourselves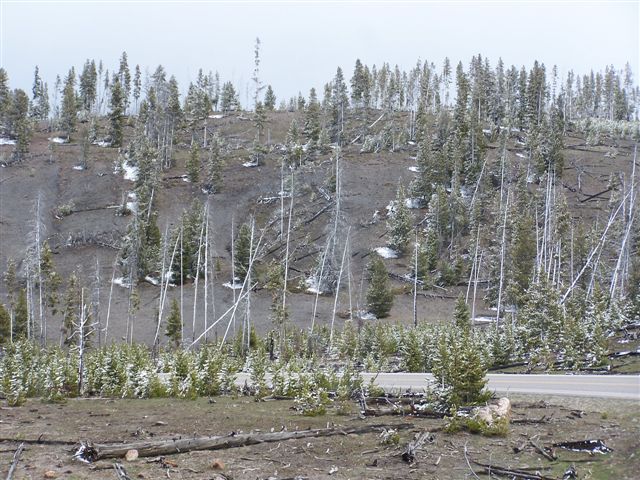 The 1988 fires burned a third of Yellowstone. 18 years later, new growth is sprouting up everywhere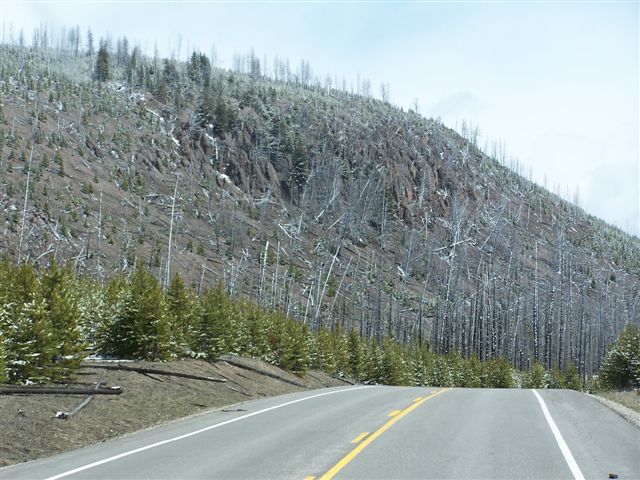 More new growth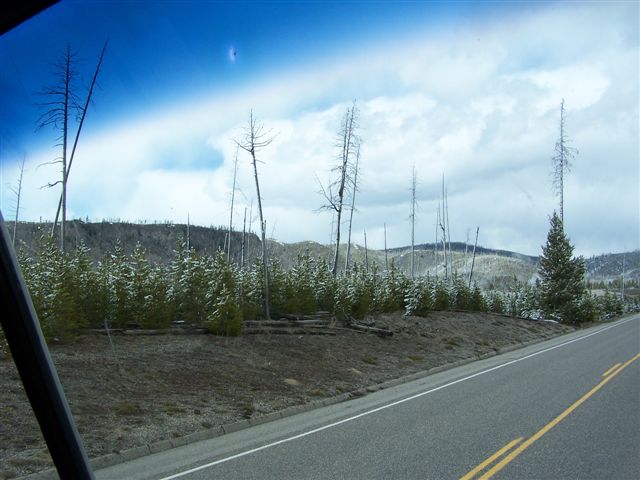 New trees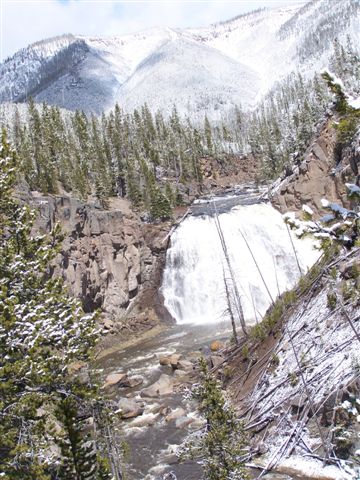 Gibbon Falls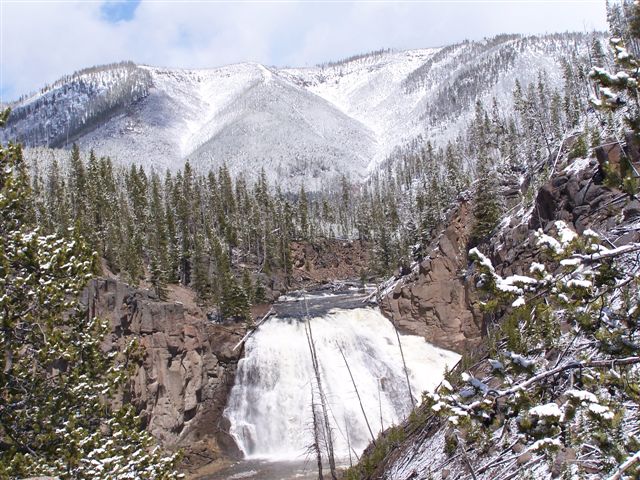 Gibbon Falls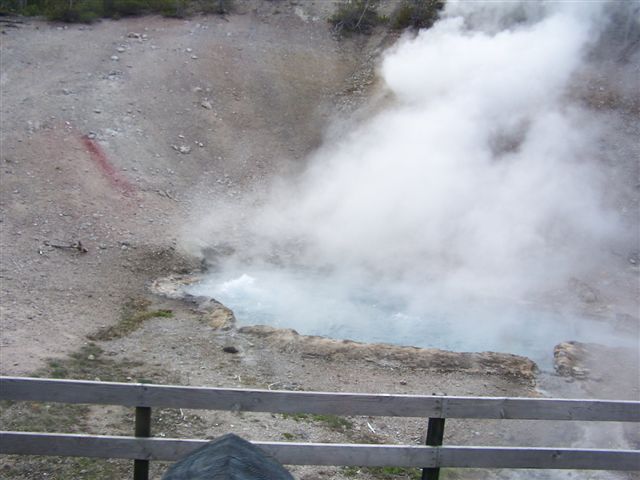 Hot springs by Gibbon Falls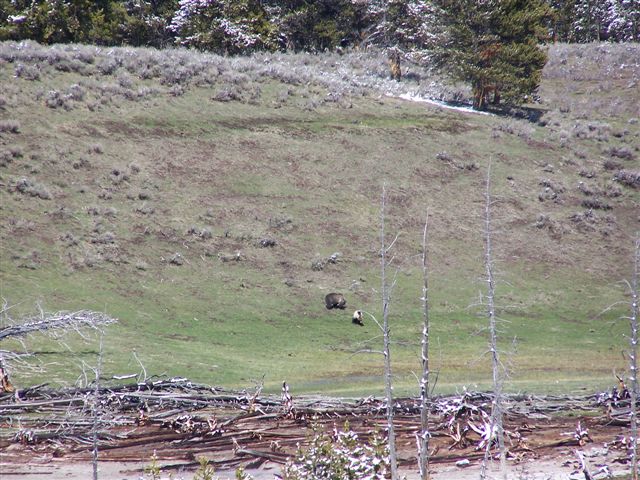 Two Grizzly Bears across from Mud Volcano using all the lense we had

Margie's binoculars let her see the bears much better than this camera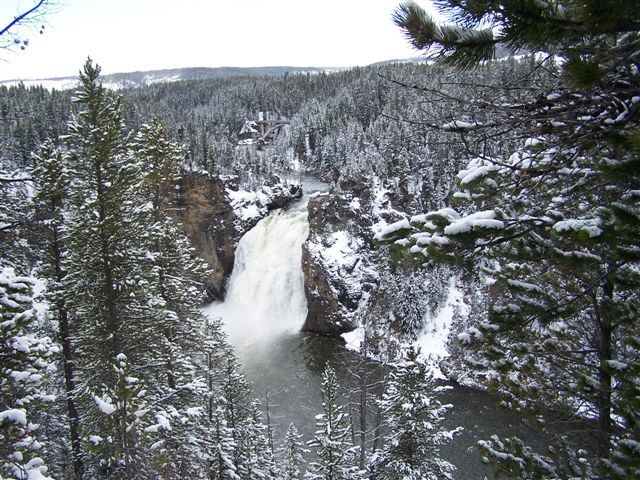 The 109-foot Upper Falls are just upstream of the Lower Falls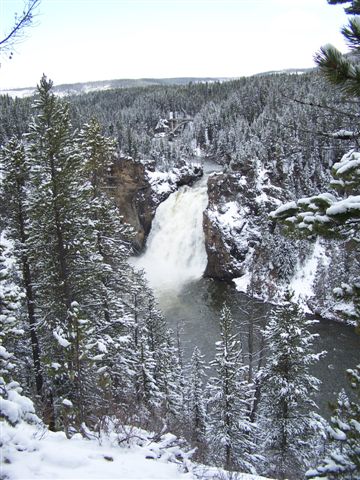 Upper Falls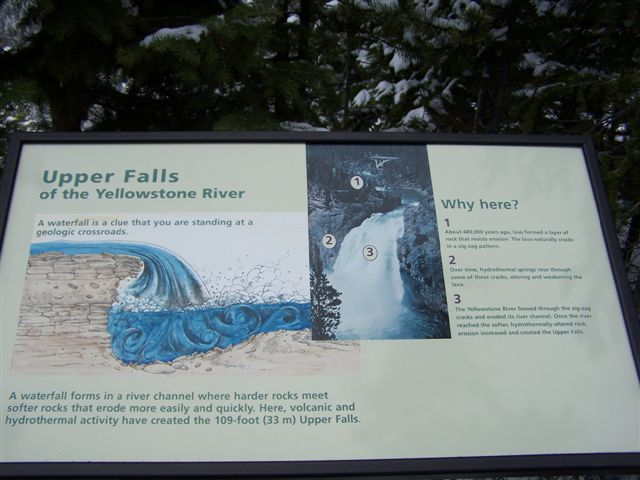 How the Upper Falls formed

308-foot Lower Falls, our favorite spot in the park, located in the Grand Canyon of Yellowstone

Lower Falls

Lower Falls

Lower Falls

Lower Falls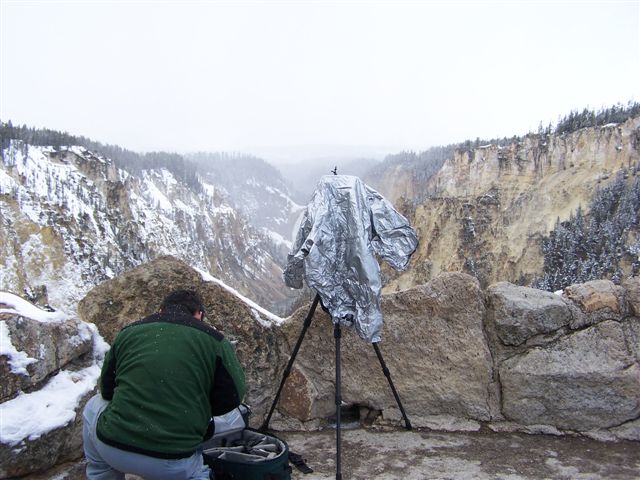 Hardcore photographers spend days waiting for the right shot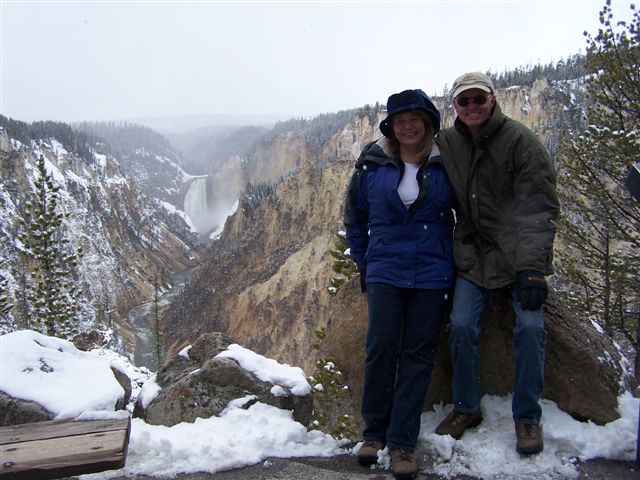 Hardcore tourists beg hardcore photgraphers to take OUR shot

Signage explaining the falls and Grand Canyon of Yellowstone

Bridge Bay Marina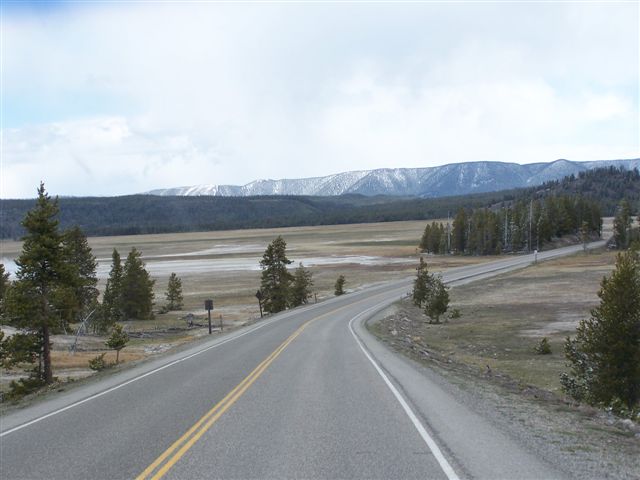 Meadow views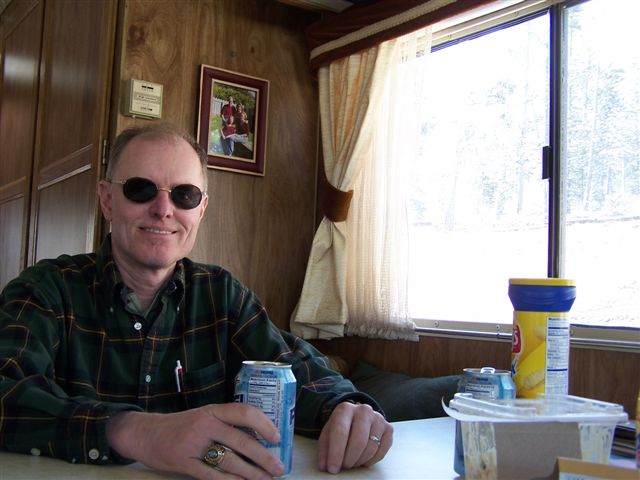 With a Winnebago, lunch is wherever you are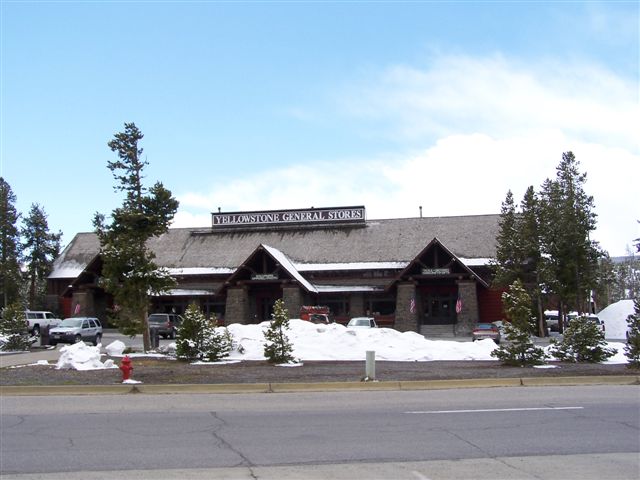 If you don't have a motorhome, there are plenty of stores in the civilized areas of the park. Gas, groceries, restaurants and gift shops are readily available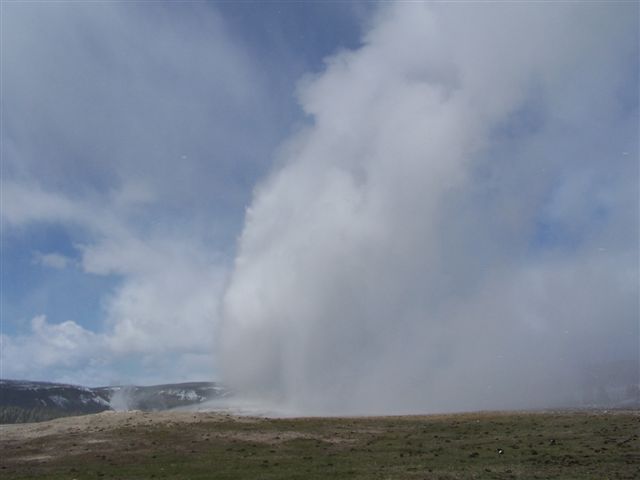 Old Faithful, remains pretty darn faithful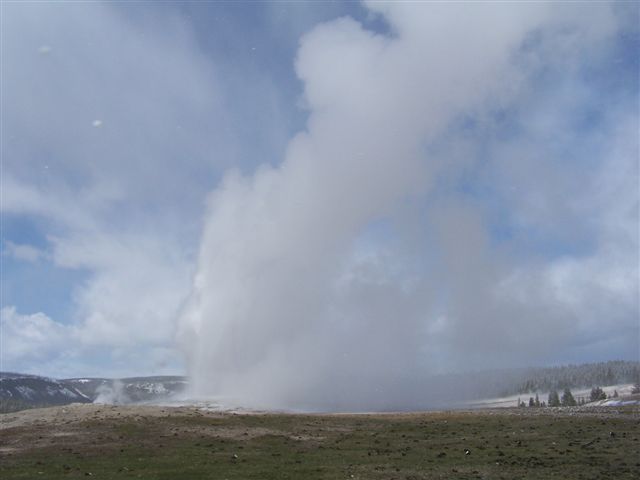 Old Faithful shoots up to 180 feet high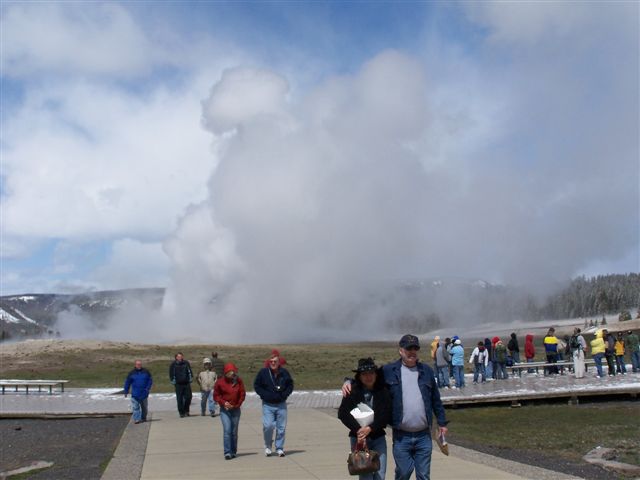 Once the geyser starts to die, geezers say goodbye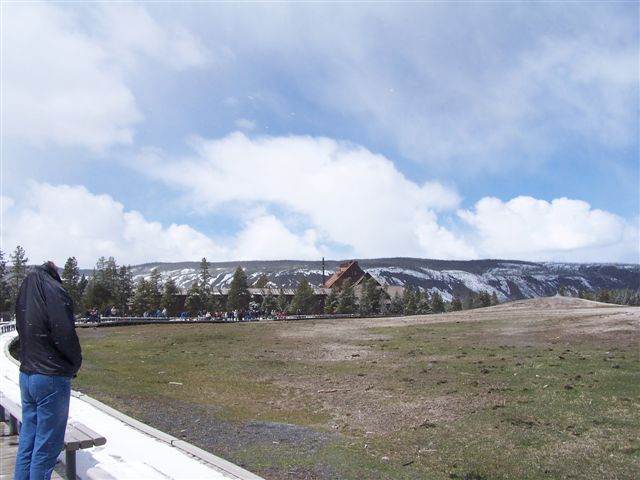 Old Faithful Inn, the largest log structure in the world, overlooks the geyser area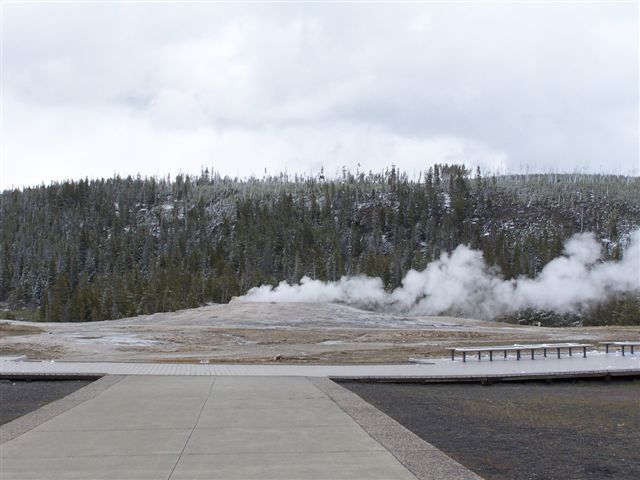 The Old Faithful Webcam is located inside the Ranger Station, pointed at Old Faithful. Just click the link to see a live view of Old Faithful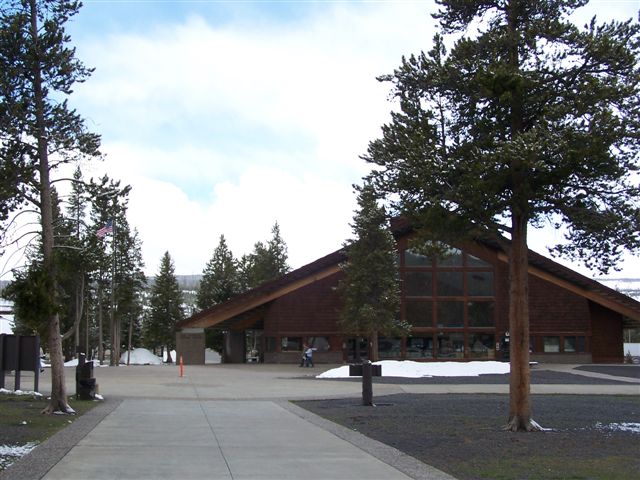 The view of the building where the Webcam is located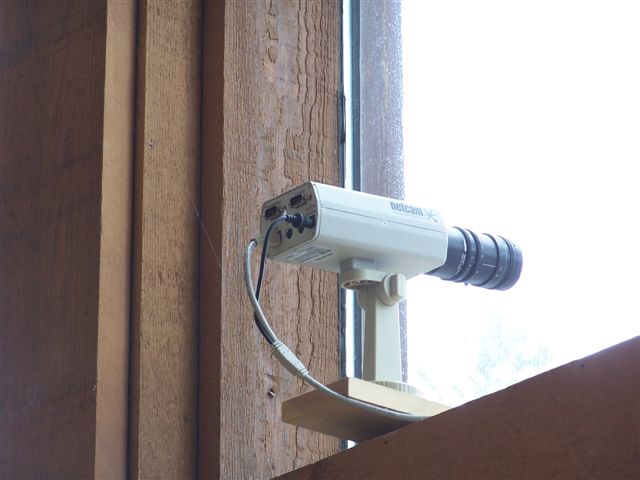 The webcam itself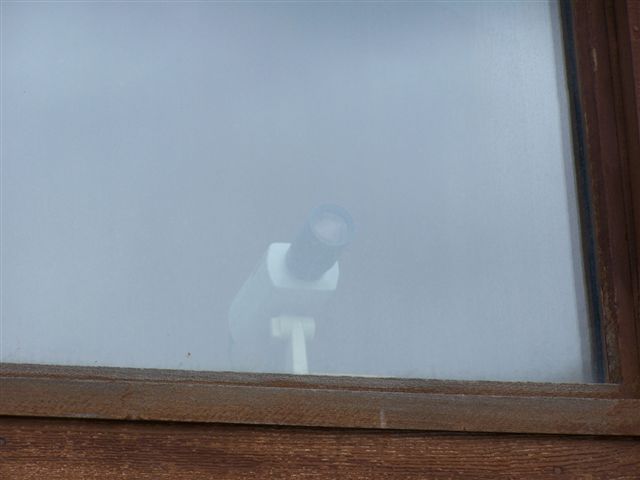 The nearly invisible webcam

An otter out for a swim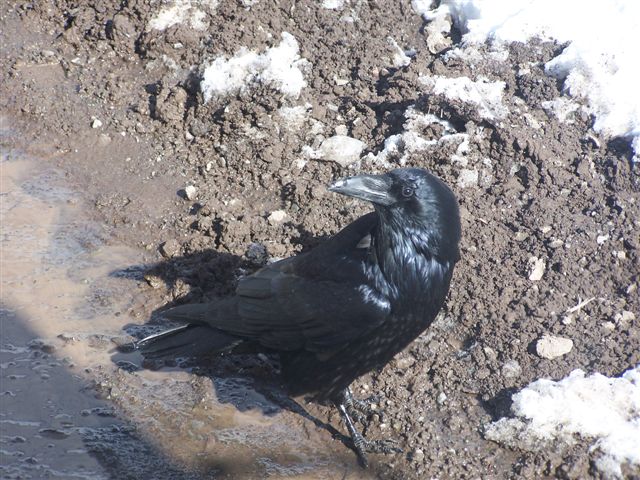 Ravens are great beggers and very clever. Don't leave objects on picnic tables (especially keys!) or ravens will snatch them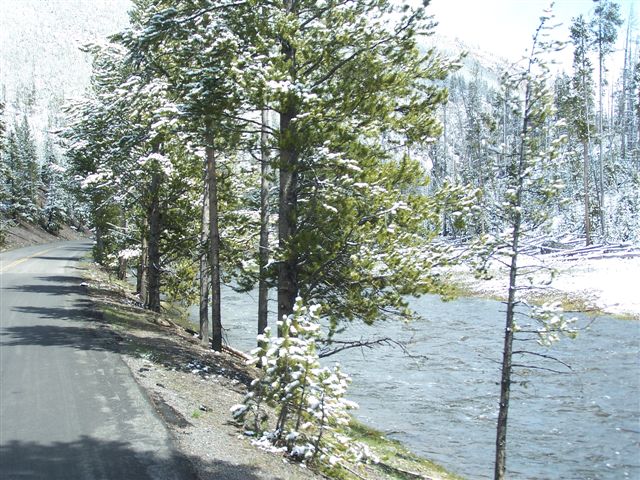 Great river views from the road throughout the park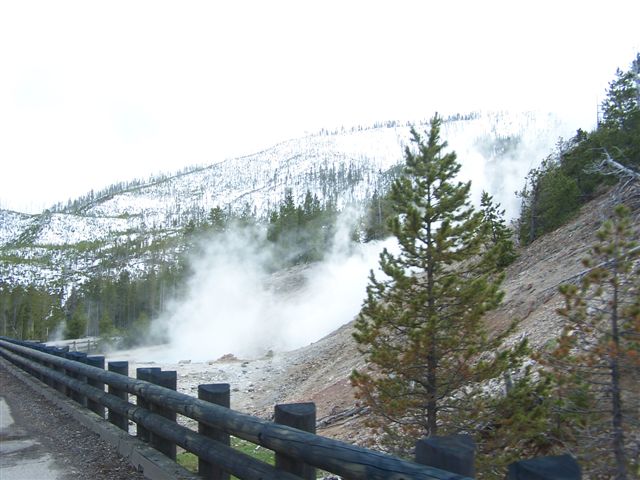 In Yellowstone, steam means you have found another thermal feature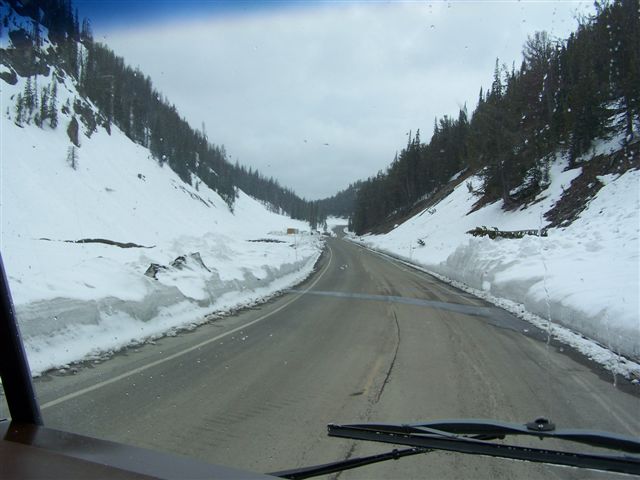 Winter conditions in May, but it will be summer conditions by June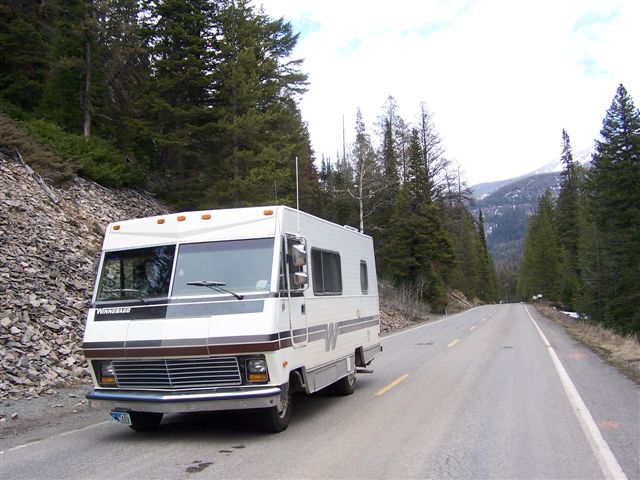 The Winnebago Brave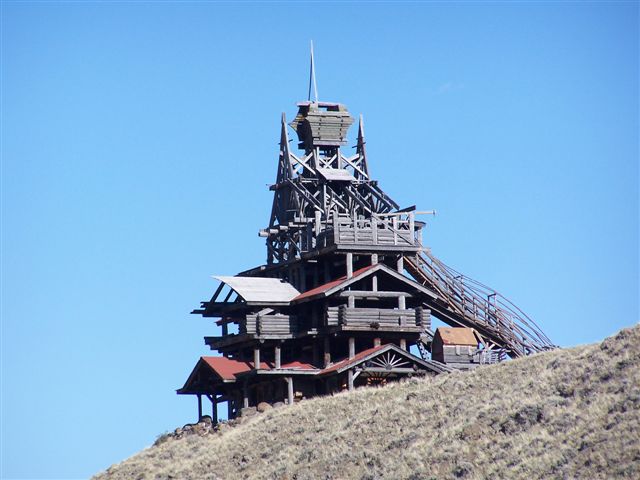 We get many questions about this building located near Wapiti between Cody and Yellowstone. The story we heard says a man was building this home piece by piece. Everytime he got 50 cents in his pocket he'd go buy another board. After years of construction, he fell off the roof and died. His son refused to sell the place or tear it down, insisting on leaving it as a tribute to his father.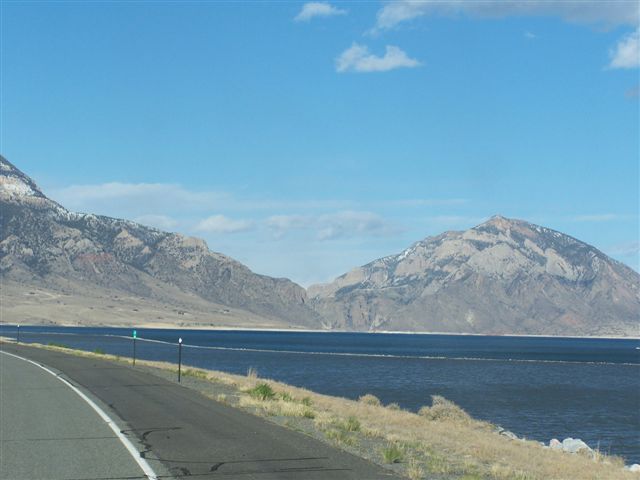 The western entrance to Cody (5,000 elevation) boasts great views of Rattlesnake Mountain (left, 8,500 elevation), Cedar Mountain (right, 8,200 elevation), and the Buffalo Bill Reservoir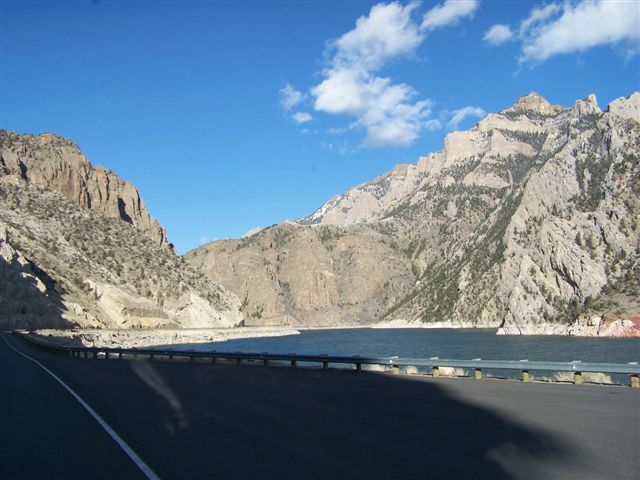 The beautiful cove by the Buffalo Bill Dam entering the west side of Cody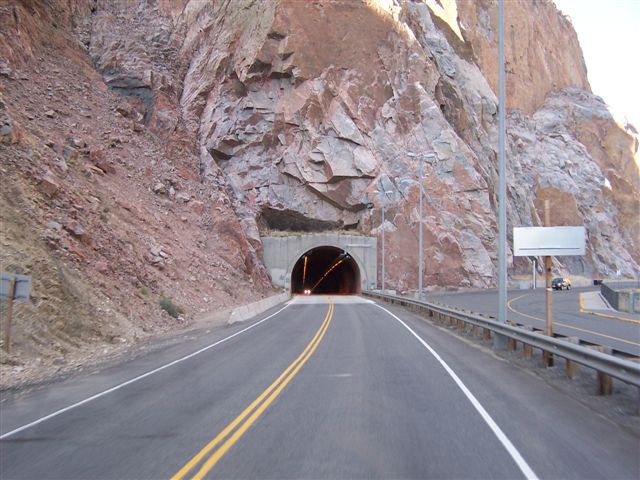 Western tunnel as you approach Cody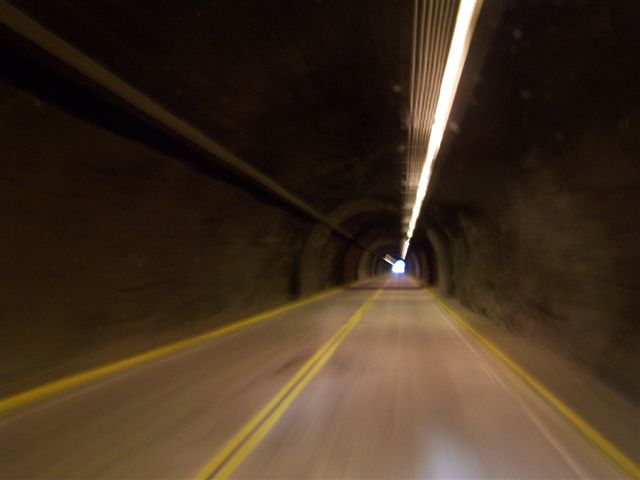 Inside the 3,200 foot long tunnel on the west side of Cody. The tunnels are over 14 feet high -- large enough to handle any RV or semi-rig

After two days of travel, we're all licked
Click here For Editor's Other Photo Essays