Brochure: BRIDGE WATER INN

By Mike Johnson
1996 Bridge Water Inn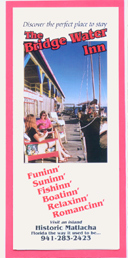 Front Cover
Photo and verbiage to show fun "Inn" the sun!
(Photograph & design by Margie Johnson)

Inside first fold:
(Multiple photos of guests enjoying amenities)

Inside second fold:
(Text)

Isn't it time you escaped from the rat race?

Located along the base of "The World's Fishingest Bridge," in the beautiful Matlacha Aquatic Preserve, a stay at the Bridge Water Inn will recharge your soul.
Enjoy the vibrant sunrises and enchanting sunsets, fish right from your room, dock the boat at your door, watch playful dolphins, manatees and leaping mullet while pelicans, osprey and bald eagles soar overhead.
Relax in a hammock, walk to restaurants, shops and galleries. Take an island cruise, go on a sea kayaking adventure, watch the shrimp boats come in or just mingle with the friendly islanders.
Stay for a week or a month. Who knows? Once touched by Matlacha's quaint island charm, you may never leave.
* We Highly Recommend Reservations *
Inside third fold:
(Text and map)
We've Waited Millions of Years For You!

Matlacha/Pine Island rose from the sea 24.5 million years ago and things have only gotten better since. At 17 miles long, it's Florida's largest undeveloped gulf coast island and home to 8,500 residents. Its history includes Calusa Indians, pirates, Ponce De Leon and the best tarpon fishing in the world today.
Sandwiched between dozens of small islands, the area is a haven for wildlife, fishing, island hopping, shopping, golfing, dining and those who long for a slower, tropical pace.
Osi & Steve McCarney welcome you to this very special place.
Back cover:
(Photo and text)
You'll Love Our Amenities:

All rooms on the water!
Spacious Furnished Efficiencies
Magnificent Sunsets
Color TV * Cable
Fish off our covered docks
Boat Docks * Charter Trips
Bait Shop * Gift Shoppe
Picnic Area * Restaurant
Multi-lingual (English, Spanish, Italian)
Back To Main Brochure Page