"43 Ways to Earn Cash TODAY"
"44 Ways to Earn Cash Tomorrow"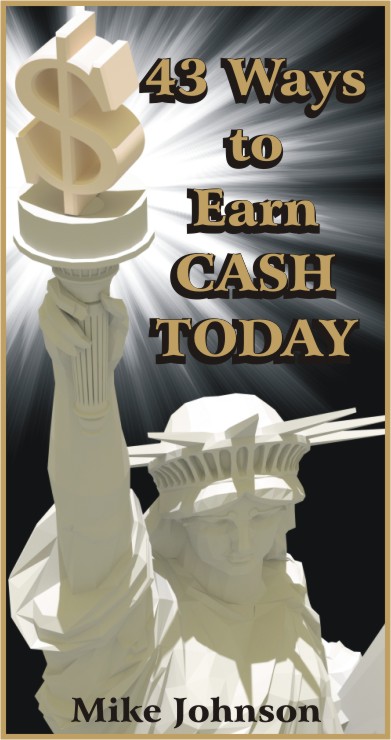 Two booklets in one! When your back is really up against the wall and you absolutely MUST earn cash TODAY, your solution can be found in "43 Ways to Earn Cash TODAY." When you need a second income or want to replace that job you hate, you'll find many solutions in "44 Ways to Earn Cash Tomorrow." Both booklets are included for one low price.
This advice comes from serial entrepreneur Mike Johnson. Mike has owned and managed businesses since 1968. He's managed $1 million to $60 million operations for McDonald's & 7-Eleven. He's started and owned multiple businesses. He's written and sold thousands of articles related to business and entrepreneurship. Mike has been rich, gone bankrupt and gotten rich again. He knows what it's like to be so broke you don't have enough money to buy food. Mike has learned that the greater your financial self-sufficiency, the greater your financial security.
Mike has invested 10,000 hours researching the US financial system and is certain there will be no recovery before a massive reset or collapse. This booklet is written to help you survive and thrive during these difficult times.
Get Both Booklets For One Low Price!
---

Kindle Version, $2.99 Downloads Instantly

Printed Version That We Send in the Mail, $6.99
---
Don't Need This Booklet Yourself? Great! Buy it For Others Who Do!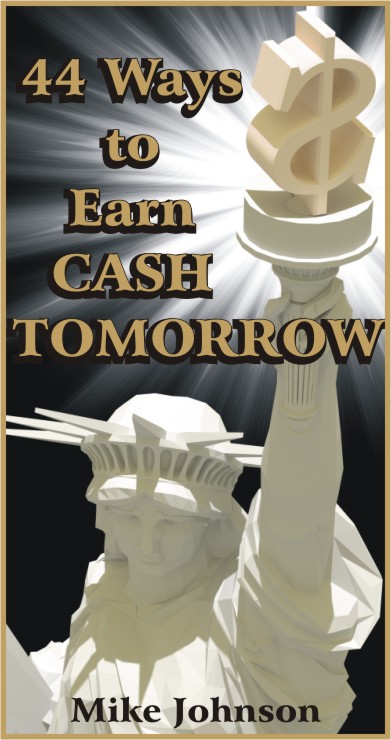 Are you a Parent? Business owner? Landlord? Church? Charity? Social agency? Everyone can use more money. Some are desperate, some just need a little income boost to stay on track. If you're blessed with enough money, giving away this unique little booklet is a great way to help others help themselves. Bulk orders get significant discounts. People in dire need can write the author to receive a free copy.
---
Are You Looking For a Unique Trade Show Premium?
Which would you rather receive? A keychain or a Lifetime Income Stream?

Everyone can use more money. Imagine offering your prospects an advertising premium that EARNS THEM MONEY. Wouldn't that make it easier to get their ear as they approach your trade show booth?

Stop handing out trinkets and start handing out treasure. Give your prospects a copy of the unique double booklet "43 Ways to Earn Cash TODAY" and "44 Ways to Earn Cash Tomorrow." Break out from the pack. Offer real value and you'll get real attention. Better yet, when the trade show is over, you can continue to use the booklet as a value-added premium. Leave it at sales calls. Provide it to prospects who sign up for your e-newsletter. Include it as an unexpected gift during order fulfillment.

Place your order today and you'll be distributing your customized booklet at your next trade show! Rush orders are no problem and shipping is free to USA addresses.

Click here to access a GREAT Article about how effective it is to use booklets as trade show premiums.

Or send me an email and I'll call you to discuss the details.
---
From the Author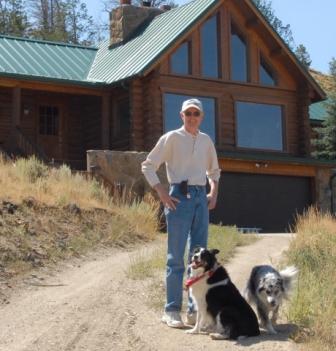 "Money isn't the most important thing in life, but it sure gives you more options. One of those options is taking better care of the people you love. It's tough to help the world when you don't have the resources to help yourself. What could you achieve if you had more financial resources? Isn't it time you solved your money problem once and for all?"
- Mike Johnson
Wapiti, Wyoming
---
10 More Ways To Help Others With This Booklet
1. Distribute this booklet to every employee as a free benefit to help their financial future.
2. Thank your customers by enclosing this booklet with your invoice, shipment or correspondence.
3. Hand this booklet to prospects at trade shows or sales presentations.
4. Mail this booklet to customers and prospects as a way to stay connected.
5. Award this booklet to customers who answer surveys, sign up for your e-newsletter or enter in-store drawings.
6. Use this booklet as an incentive to encourage the opening of new accounts.
7. Present this booklet to your tenants to help them earn their rent payments more easily.
8. Give this booklet as a thank you gift to those who refer you business.
9. Help your deserving relatives, colleagues and associates by providing this booklet.
10. Give this booklet to people in need yourself or give bulk quantities to your local church, soup kitchen, charity or homeless shelter for distribution to their clients. "Give a man a fish and he eats for a day. Teach a man to fish and he eats for a lifetime."
---
Order Form
"43 Ways to Earn Cash TODAY" and "44 Ways to Earn Cash Tomorrow"

Both Booklets Printed into One, 32-Page Double Booklet

Those in dire need can write the author to receive a free copy

Bulk purchase discounts, printed version of booklet

1-10 copies $6.99 each

11-50 copies $6.00 each

51-100 copies $5.00 each

101-500 copies $4.00 each

501-1,000 copies $3.00 each

1,001+ copies Call for quote

5,000 + copies Licensing agreements available
Licensing
If you need thousands of copies you can economically license the electronic and/or print rights. Electronic rights allow you to use the book in email or online campaigns for a full year. Print rights allow you to use your own print shop for additional savings and allows you to add your own "President's Message" or other content in addition to branding the booklet with your own company logos and slogans.
Once you license 10,000 copies, the cost per book drops to 60 cents each. License 100,000+ copies and the price drops to 16 cents each. Need different quantities? Contact Mike for a free quote.
Quantity of Books Ordered ____________________
We Provide Free Shipping to USA Addresses
Name:_____________________________
Job Title:_____________________________
Company name:_____________________________
Phone number:_____________________________
Billing address:____________________________________________________________________
Shipping address:____________________________________________________________________
Email:_____________________________
Make checks payable to:
Mike Johnson
PO Box 287
Wapiti, WY 82450
307-587-2331 Voice
Mike's Website
Thank you!