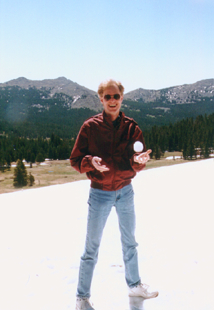 Incoming!

Mike Johnson's lightning wit and mastery of wordplay, sound and rhythm make him one of the most clever comedy writers today. His one-liners are untouchable and his multi-layered jokes earn laughs from all levels of audience -- from the brain-dead to the brain surgeon. Catch him live "on-stage" in the Writers Cafe on America Online, where he's been performing as a "sit-down" comedian since 1995.

Mike also writes many of the gags in the annual Cody Rotary Show.

To add levity to your day, check out Mike's comedy writing below. Please note the content below is quite dated because Mike has turned his attention to his entrepreneurial interests.
---
Mike Johnson
P.O. Box 2534
Cody, Wyoming 82414
Voice 307-527-7017
FAX 307-527-6971

Back To Welcome Page